Your tractor or lawn mower sees lots of action each year, especially during the warmer months. Over the years, parts can wear out. This is normal maintenance and all equipment of this type will eventually need some repairs. That's because it must mow, till and/or plow rough areas where there's lots of grass and dirt. A good number of equipment owners are hands on, do-it-yourself'ers. They learn how to replace parts themselves. But what about a gearbox?
Replacing the gearbox on your Kubota tractor or mower is a task that you can do.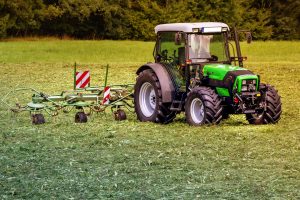 Over the past 20 years, there have been significant changes in technology. However, the components of a gearbox and gearing are still much the same. Gearing and motor performance efficiencies have increased, seals and seal materials are better, synthetic lubrication can significantly extend life, and condition monitoring can prevent sudden shutdowns. Sometimes there's a benefit to upgrading to the latest Kubota, Honda, Toro, Kawasaki, Kohler or Briggs and Stratten lawn equipment.
Is it time to replace the gearbox on your Kubota?
Most owners can tell when their gearbox is wearing out. You'll notice that the gears don't change well anymore. The clutch slips. There may be a grinding noise. You might notice an awful smell like oil burning. If you see fluids are leaking out onto the ground, that's a sure indication that something's not quite right.
If the mower seems sturdy and otherwise in good condition, then simply replace the faulty parts. Before you begin, ask yourself a few sound questions.
Once you are certain that the gearbox is faulty, you may want to consider whether or not to replace the mower or tractor. If other parts seem worn and the machine is constantly giving you trouble, then replacing it would seem like the best course of action.
Are you satisfied with the functionality and lifespan of your gearbox?
This might be a good time to upgrade your gearbox to better technology. Many manufacturers including Kubota, offer excellent machines such as tractors, mowers, ATV's and other outdoor equipment.
How often is this gearbox replaced?
You should not be replacing a unit more frequently than every two years. However, occasionally you may find a poorly designed gearbox. This is a good time to replace it with a more efficient piece of equipment. Kubota gear boxes are known for their long-lasting design. They can take a lot of wear and tear and still perform.
Do you need a tractor/mower that's faster?
This is a great time to think about whether you need a tractor that can get the work done quicker. Various gearboxes can make your equipment more efficient in every way. As long as your motors and gearboxes are certified and built for the type of work you need to do, you probably won't have any issues.
Before you begin, make sure that the unit you are replacing is readily available. Occasionally, you'll discover that a piece of equipment or a part has been discontinued for various reasons. That's the first step in your quest. Make sure you can get the gearbox. This is a good time to consider whether to purchase an off-brand or an OEM. Ask the right questions:
"How long will it take to get this part?"
"What's the difference in pricing between the OEM and the generic brand?"
If your equipment is older, the model number might be obsolete. Be sure to find out about that. In some cases, it's a good idea to make sure the manufacturer is reputable. Will they guarantee their product? Do they offer good customer service?
Time to Move forward
Once you've gotten your new gearbox, it's time to move forward with installing it. Of course, you will need to remove the old gearbox first. This is the type of task where it might be helpful to have an extra set of hands. If you have a buddy who could come over to help with this chore, the work will go faster.
If you're unsure about how exactly to do this job, then check out a few of the many youtube videos that show exactly how to remove the old gearbox and replace it. In most cases, the steps are virtually the same and yet there may be certain parts that are harder to find or bolts, screws and wiring in different locations.
In all cases, the first step should be removing the battery. If the equipment has a gas or diesel engine, then disconnect the fuel lines. The main point here is to ensure that the engine can't accidentally start.
For the step-by-step instructions for your specific gearbox, consult a dealer or their website. Bahrns Equipment has all the farm and mowing equipment you need to get the job done. We also offer replacement parts for Kubota, Honda, Stihl, Land Pride, Grasshopper, Briggs & Stratton, Echo and many other fine brands.
References:
8 questions to ask yourself before replacing a gearbox – Pit & Quarry : Pit & Quarry (pitandquarry.com)
Industrial Gearbox Repair & Rebuild | National Rush Service (geartec.com)